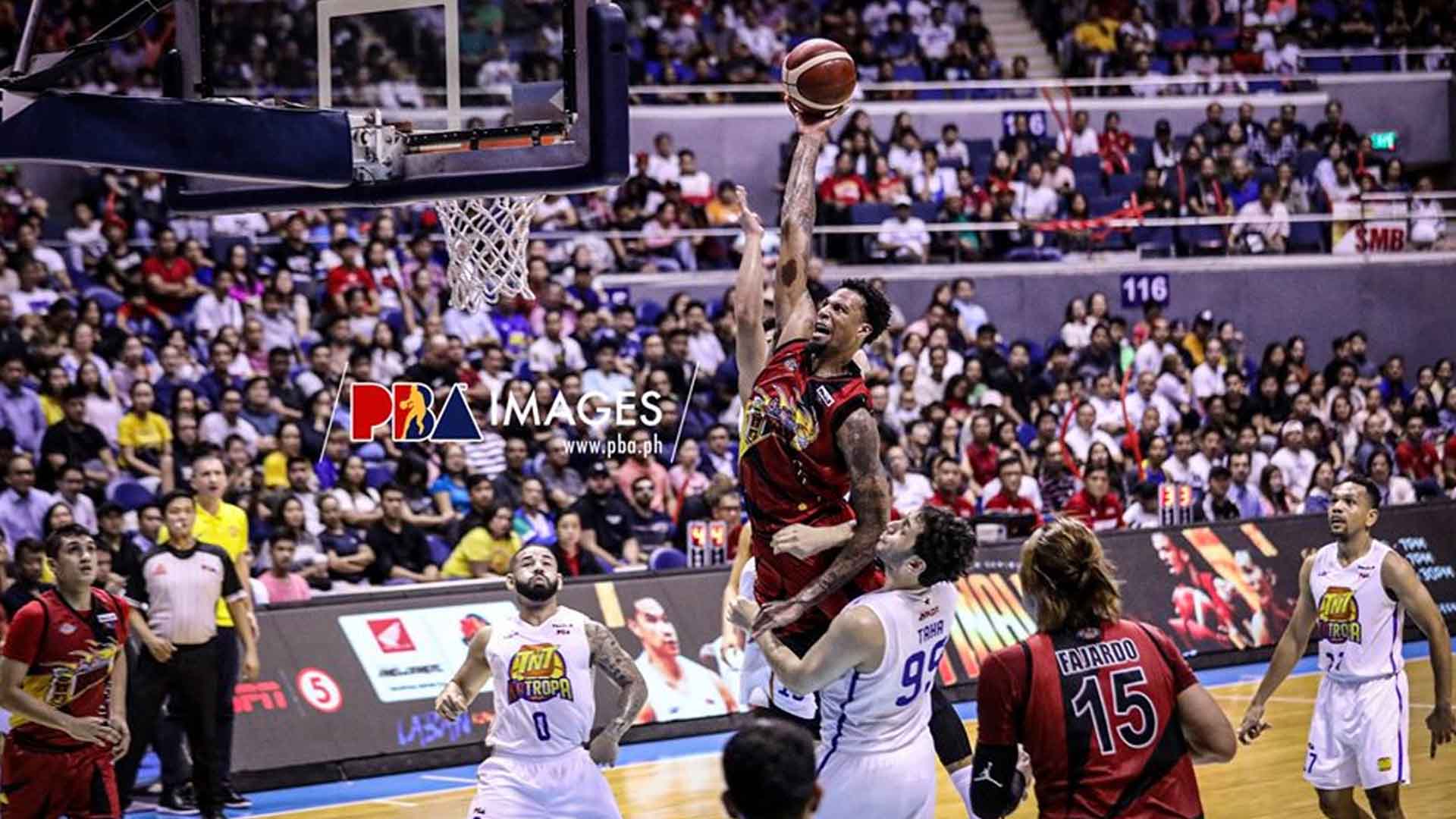 The San Miguel Beermen escaped with a 127-125 win against the TNT KaTropa in a double-overtime thriller in Game 2 of the PBA Commissioner's Cup Finals at the Smart Araneta Coliseum in Quezon City on Wednesday night.
The Beermen survived despite blowing an 18-point lead as the KaTropa reeled from the loss of import Terrence Jones while the hot Troy Rosario committed foul trouble and missed out on opening a 2-0 lead in their best-of-seven series.
Jones was the first to go in the dying moments of regulation when he was called for a second technical foul after shoving Chris Ross following his foul with TNT up, 114-111, with 21 seconds remaining in the first overtime session.
Chris McCullough made the technical free throw, while the KaTropa eventually missed four straight free throws, two from Brian Heruela, who was designated to take the charities for the already ejected Jones, and Rosario, who grabbed the rebound off McCullough's potential equalizer, setting up a fastbreak layup by Alex Cabagnot with 0.9 second left that extended the game to another overtime session.
After both teams went back-and-forth for most of the second extension, the Beermen scored four straight points, two off free throws from Junemar Fajardo and the other deuce from Ross's fastbreak layup off a crucial Jayson Castro turnover to put them up, 126-122, with 15 seconds left.
Castro made up for his error by burying a booming triple with 11 seconds remaining to trim the gap to one, 126-125, and TNT got a chance to steal the win as McCullough only made 1-of-2 from the foul line.
Castro, however, missed two three-point tries, a long trey from even way beyond the NBA range and another from just behind the line when he got the offensive rebound, as time expired.
McCullough finished with 32 points, 22 rebounds, seven assists, one block, and two steals for SMB, which forced a 1-all deadlock in the finals.
Terrence Romeo added 29 points on 10-for-14 shooting, four rebounds, and two assists off the bench.
Ross chipped in 25 points, six rebounds, four assists, two steals, and one block, while Fajardo had a quiet double-double of 12 points and 10 rebounds with one block and two steals.
Rosario's career-high 34 points hardly mattered for TNT as well as double-doubles from Jones (28 points and 13 rebounds), Castro (27 points and 12 assists) and Don Trollano (14 points and 11 rebounds). (PNA)
Photo Credit: facebook.com/pbaofficial