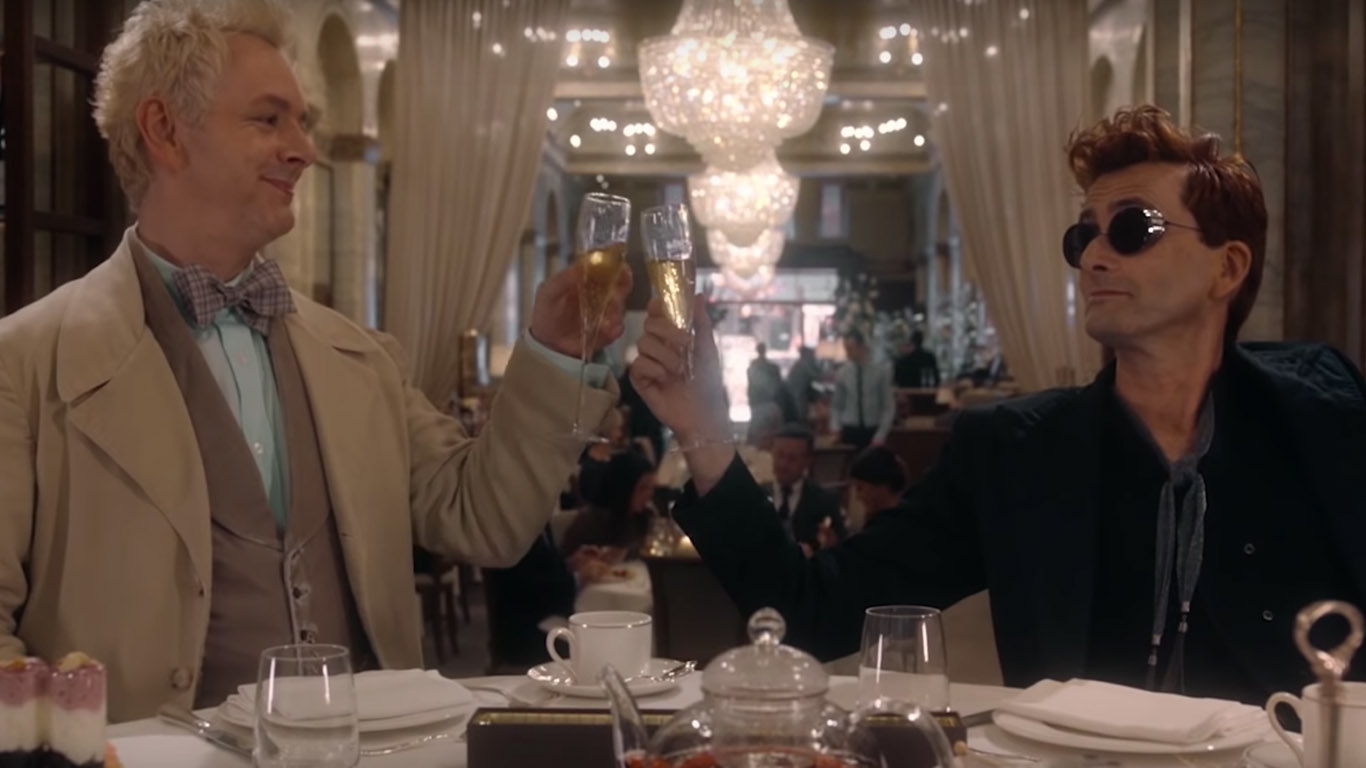 Recently, it has been reported how about 20,000 people against the Amazon-BBC Studios television miniseries adaptation called "Good Omens" signed an online petition demanding that the show be removed from Netflix. The petition demands the halt of any further streaming of the "blasphemous" show to the public. They cite the following as reasons enough to pull the plug on the show: the promotion of an angel and a demon forming a friendship, that God is voiced by a woman and, basically, that the show blurs the supposed clear and definite line between good and evil.
Although, if you have been paying attention to literally the first sentence I just stated above, you can already tell where the issue lies here. And to those who need a little more clarification, it goes a little like this: since when did Netflix become Amazon and BBC Studios all-in-one?
The initial wrongly-addressed petition was created by those behind the "Return to Order" campaign which branched out from the much larger "Foundation for a Christian Civilization" organization in the United States. Their aim is basically to rebuild the American society and bring back its necessary balance by making people wholeheartedly see how God's Law is the solution to everything. Honorable enough if not for the fact that they have been branded by many as being too by the book that they practically are becoming killjoys because of their intense sensitivity among many things.
Also, they do possess quite reasonable points, if not for the other two main points that majority (both fans and even non-fans who are, to put it, less sensitive) have been retorting back: having a strong enough faith in one's beliefs so as not to be affected by what is clearly created for mere entertainment purposes and the if-you-don't-like-it-then-just-don't-watch-it solution.
As of today, the petition has already been fixed to address the proper streaming-site in charge of handling the show but, of course, not without already having been further ridiculed by the people of the internet including one of the book's authors, Neil Gaiman, himself. Again, fans, many of which are actually Christian as well, have been reasoning against those petitioners on how one should have the common sense of knowing between what is simply fiction from the truth. Plus, knowing how to enjoy a good show without having to take things so seriously because they are called entertainment for a reason.
"Good Omens: The Nice and Accurate Prophecies of Agnes Nutter, Witch" is a book published back in 1990 by Terry Pratchett and Neil Gaiman and it tells the story of how the demon Crowley and angel Aziraphale band together in order to stop the end of the world as the two have grown comfortable living in England. They end up making it their life's duty to make sure that the anti-Christ, a young boy named Adam, does not ever come to realize of his true nature and powers. Nonetheless, as fate is the way it is, the nearing of the end of the world still draws closer especially with the arrival of the four horsemen of the apocalypse and Adam, having at some point realize his capabilities, decides to use it for good as he just wants to continue on with his life as a normal kid. Together with his friends, Crowley and Aziraphale as well as a couple of other featured characters, they end up forming an Avenger-like assembly to save England and, in totality, the entire world.
It's television adaptation simply called "Good Omens" aired on Amazon Studios last May 31st and stars Michael Sheen plus David Tennant as the main characters of Aziraphale and Crowley respectively. The show is mostly true to the book with a few additional characters introduced and has been met with positive reviews. It will soon be aired on a weekly basis over at BBC Two.
This isn't the first time "Return to Order" has tried sacking a show. Netflix's "Lucifer" and "Chilling Adventures of Sabrina" have also been recently targeted. Even the just-for-laughs card game of "Cards Against Humanity" have been demanded by the campaign/organization to be removed.
Photo Credit: "Good Omens – Official Trailer"