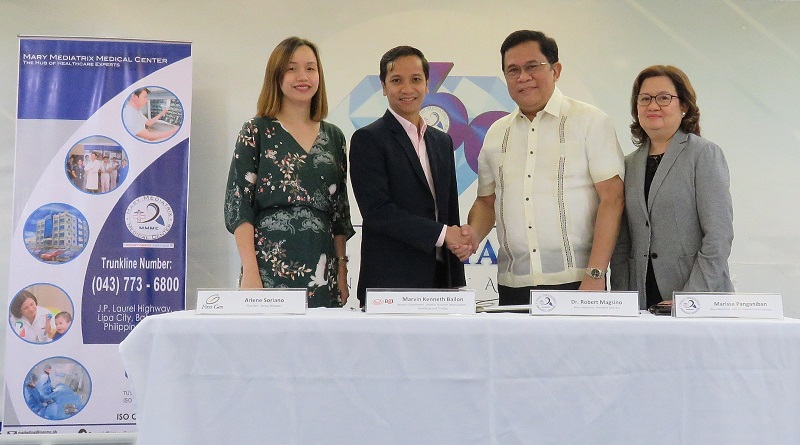 Mary Mediatrix Medical Center led by its President & CEO, Dr. Robert Magsino (2nd from right), and Senior Vice President-Administrative Services Marissa Panganiban (extreme right) signed up to get clean, reliable power from First Gen subsidiary and geothermal leader Energy Development Corporation, represented by Marvin Kenneth Bailon, head of Business Development-Marketing & Trade (2nd from left), and Arlene Soriano, First Gen Senior Manager (extreme left).
The Mary Mediatrix Medical Center (MMMC) is now being powered by clean, reliable power from Lopez-led First Gen Corporation and its subsidiary, Energy Development Corporation (EDC).
Located in Lipa, Batangas, the hospital signed up for a two-year contract for one megawatt (MW) of geothermal power from EDC's BacMan Geothermal, Incorporated.
"This contract symbolizes our commitment not only to our partnership but also to our environment. It is a good opportunity that First Gen-EDC offered us this alternative energy solution. Not only will we be able to generate substantial savings through this initiative, but we will still be able to deliver high quality healthcare services to our patients without compromise," said MMMC CEO and President, Dr. Robert Magsino, at the contract signing held in Lipa, Batangas.
"Geothermal power provides clean, renewable and reliable energy source that allows us to reduce our operation's negative impact to the environment by reducing our carbon footprint. With this in mind, we look forward to mutually-beneficial and strong partnership with First Gen-EDC," he added.
MMMC has been giving appropriate care to its patients in Southern Luzon since 1994. It received its ISO 9001:2008 certification in 2013, a proof of the hospital's international quality standards.
EDC is one of the world's largest geothermal producers and the country's leading renewable energy company with an installed capacity of 1,475 MW. For over 40 years, EDC has been implementing comprehensive environmental management programs that enhance the ecosystem and corporate social responsibility programs that ensure inclusive growth for its partner communities.