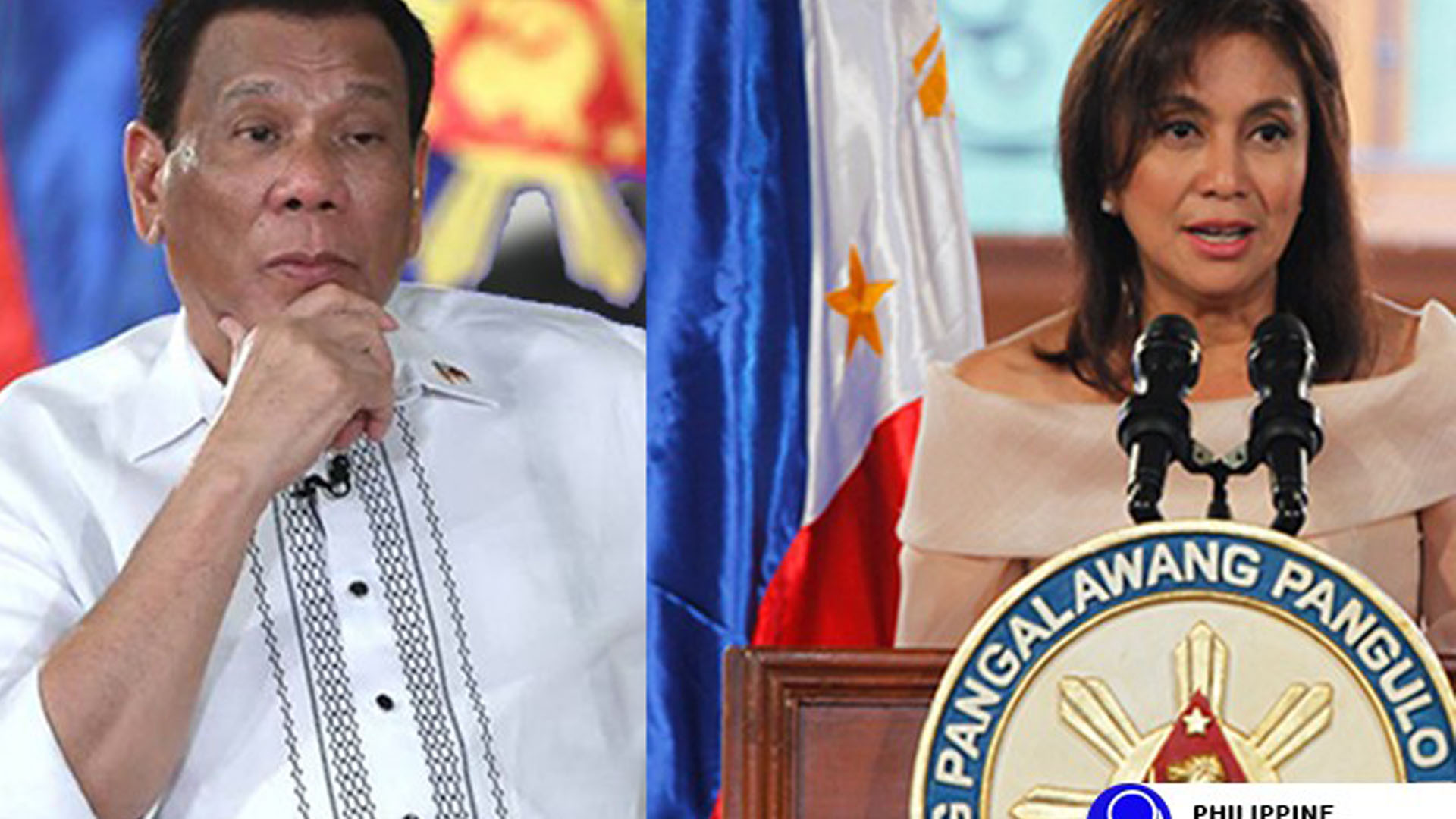 President Rodrigo Duterte and Vice President Leni Robredo have been staunch critics of each other. VP Robredo has assumed the position of opposition leader, spearheading efforts to unite various groups that are against Duterte's administration. Duterte, on the other hand, has once accused Robredo to be involved in plans that want to oust him of power. While the president's supporters have always accused her of cheating her way to the vice presidency.
Let's take a look at where the president and the VP stand on some selected issues.
Foreign policy with China
After a landslide victory in the 2016 elections, Duterte announced that his government would not be dependent on the United States. On multiple occasions, he has publicly cursed top US officials, including former President Barack Obama when he attacked Duterte's human rights records.
After announcing his "separation from the United States," Duterte chose to smooth the country's relations with China to the point that he refused to enforce the 2016 ruling of The Hague wherein disputed waters of the West Philippine Sea have been declared to be rightfully ours. Duterte favored economic relations with China, choosing to borrow funding for infrastructure despite warnings and oppositions rather than enforcing the country's sovereignty.
Chinese migrant workers have also increased in the last three years. Over 50% of Alien Employment Permits issued by the Department of Labor and Employment was given to Chinese nationals. Chinese workers are currently affecting the competition in the Philippine labor market as well as the real estate industry.
As China has refused to recognize The Hague's ruling, at the same time, Duterte is ignoring it, hundreds of Chinese vessels have been sighted near Pag-asa Island in the West Philippine Sea. Meanwhile, Robredo described China's encroachment in the West Philippine Sea as the "most serious threat to our country since World War II."
She called out the administration to shift its foreign policy from being "passive to being more courageous" in asserting its rights. The government's "failure to consistently contest Chinese encroachment in our waters was inevitably going to result in less and less respect of our laws and sovereignty from China," she said.
"As our own history has repeatedly taught us, abuse, left unchallenged, will only encourage further abuse, giving rise to impunity," she continued.
Sinking of a Philippine boat by China
On June 9, an anchored Philippine fishing boat was rammed, sank and abandoned by a Chinese vessel, endangering 22 Filipino fishermen in Recto Bank in the West Philippine Sea. Recto Bank is an area coveted by China but has been declared as Philippine property in 2016 by the international tribunal in The Hague, Netherlands. Duterte has remained mostly mum regarding this issue even after three public appearances. He called for an emergency Cabinet meeting one week after the incident, but it was reportedly canceled a day later.
Instances of China's aggression and harassment in the West Philippine Sea have also been reported in the past by lawmakers and intelligence reports. During those times, Duterte's response has also been delayed if he gave one at all. The June 9 incident, however, has been publicized by the government's Department of National Defense (DND). The Armed Forces of the Philippines (AFP) have also reported that the incident was "far from accidental." This is the first time that a Chinese vessel deliberately sunk a Philippine ship in the history of the two countries' maritime row.
Robredo, on the other hand, has publicly voiced her "deepest outrage" on the incident. She expressed her "most profound disappointment at the refusal of the Chinese government to acknowledge the culpability of those responsible for sinking the Philippine fishing vessel and abandoning its crew."
She also urged the Department of Foreign Affairs to demand justice from the Chinese government and that those responsible should face trial in Philippine courts.
War on Drugs
Duterte's main promise during his presidential campaign for the 2016 elections is to eradicate illegal drugs in less than six months by killing drug traders. When the deadline lapsed and the problem is not yet over, he asked for a six-month extension. He said he underestimated the drug problem when he self-imposed a deadline, citing that his only benchmark was Davao City.
According to the Human Rights Watch, since Duterte has assumed office, the war on drugs has caused over 12,000 deaths, mostly urban poor. And at least 2,555 of the killings has been attributed to the Philippine National Police, who have been accused to falsify evidence to justify unlawful killings.
As the leader of the opposition, Robredo has consistently slammed the president's anti-drug war. She always insisted that violence will not solve the problem. In 2017, she brought the issue to the 60th United Nations Commission on Narcotic Drugs annual meeting in Vienna.  "Drug abuse should not be treated as one that can be solved with bullets alone. It must be regarded as it truly is: a complex public health issue, linked intimately with poverty and social inequality," she said.
Despite critics and his admission that the war on drugs was a failure, Duterte still plans to continue the anti-drug campaign until the last day of his term.
Political Dynasties
In March 2018, Pres. Duterte said he was in favor of a recommended anti-dynasty provision that restricts relatives within the second degree of consanguinity to run only for 2 positions in the same election. But in October of the same year, three of his children ran for office in Davao City. He still insisted that he is against the political dynasty. It's just that his family is "forced" to run because "the people ask for them."
Meanwhile, Robredo co-authored the anti-dynasty bill during the 16th Congress. She believes that political dynasties should be regulated as the proposed charter change is aimed at federalism, which gives more power to local officials. Robredo has also once blamed political dynasties for the high poverty incidence in the poorest provinces.
Martial Law in Mindanao
On May 23, 2017, Duterte issued Proclamation No. 216, which placed the whole Mindanao region under martial law. This was due to the series of violent acts committed by Maute terrorist group in Marawi and other parts of Mindanao.
On October 23, 2017, a week after the deaths of the leaders of the armed terrorist groups, DND declared that the war is over. Two years later and past the 60-day limit, martial law is still imposed in Mindanao as requested by Duterte and approved by Congress. Duterte said that the extension was necessary to ensure the total eradication of terrorist groups, their supporters and financiers, which still number to more than 2,400 rebels. He also defended martial law from critics because "it has lessened criminality by and large."
Robredo on the other hand has been against the extension of martial law. She said that it has been ineffective in the reduction of violence in Mindanao, citing bombings in Lamitan and Sultan Kudarat despite the imposed military government. She questioned the point of martial law if the violence it aims to prevent still prevails.
End of Contractualization of workers
The end of contractualization or "endo," a scheme that offers short-term and unprotected temporary work arrangements for workers is one of the very things that Duterte and Robredo agree on.
During his campaign in 2016, Duterte acknowledged the Labor Code as outdated and the need to revisit it. As a pro-bono lawyer for the marginalized sector, Robredo has always campaigned for endo even before running for public office. She continually called to stop endo as a vice president.
In September 2018, Duterte classified Senate Bill No. 1826 or the Security of Tenure and End of Endo Act of 2018 as urgent. "I hereby certify to the necessity of the immediate enactment of Senate Bill No. 1826…in order to strengthen workers' security of tenure by prohibiting the prevalent practices of contractualization and labor-only contracting which continue to immerse our workers in a quagmire of poverty and underemployment," he said. As of May 2019, the Senate Bill is now awaiting the president's signature.
Photo credit: pna.gov.ph