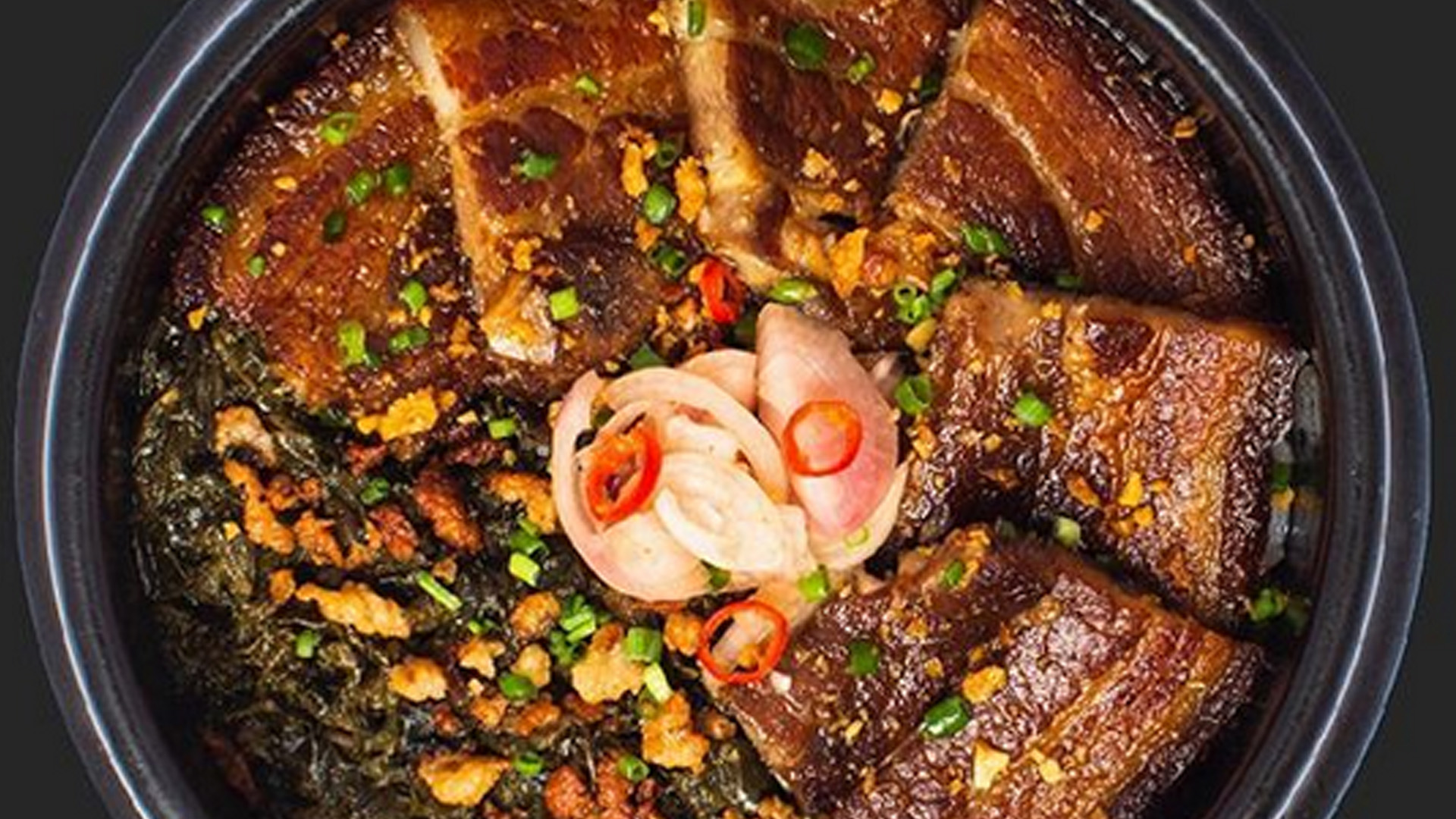 Just last May, Judy Ann Santos-Agoncillo and husband Ryan Agoncillo opened their restaurant Angrydobo located in Taft Avenue, Manila across De La Salle University.
Judy Ann is also famous for her Youtube Cooking Show Channel "Judy Ann's Kitchen" where she shares and demonstrates her own version of all time Filipino favorites and Healthy snacks for the family.
As the name suggests, the restaurant mainly serves the Filipino staple dish Adobo. An all-time Filipino favorite, Adobo can be pork, chicken or beef in a casserole pot boiled along with soy sauce, vinegar, black pepper, diced garlic and garnished with some dahon ng laurel.
But Angrydobo has taken it to the next level: Adobo with a twist. The menu is personally curated by Judy Ann herself.
Food Options
The menu comprises of the following: Appetizers, Angry Bowls, Ala Carte, Savory Fried Rice, Sweets, Drinks and Add-Ons.
For the appetizers, the options were Fully Loaded Nachos, Cheesy Sweet Potato Fries, Lumpiang Ubod, Tokwa't Dobo, Caesar Salad with Angrydobo Flakes, Grilled Chicken Salad, Parking Lot Pork BBQ Sandwich, Honey Sriracha Chicken, 3-Cheese Flying Saucer, and Angrydobo Bao. The price ranges from P130 – P335.
As for the Angry Bowls, there are seven options: Angrydobo Classic, Shortribs, Sisig, Sardines with Egg, Angrydobo Flakes,  Chicken Thigh and Tofu. These viands come with steamed rice and a side of your choice: Laing with Latik, Kang Kong or Gising gising. The price ranges from P235 – P295.
For the Ala Carte, these are for sharing good for 2-3 people as suggested in the menu. The options are similar to the Angry Bowls options. If you opt for this, you can order something from their Savory Fried Rice choices which are Bagoong rice, Kimchi rice, and Crab Fat rice.
Angrydobo is also diligent to with their food presentation. Served in a hot plate or bowl placed on a wooden heart mini-tray, the food that arrives at your table will surely be sizzling hot.
The drink options are diverse as well, not straying away from their Filipino branding. They serve shakes in Ripe Mango, Pineapple, Guyabano, Green Mango and Watermelon. They also serve Tamarind Iced Tea, Four Seasons (for sharing) and Angry Coffee. They range from P60 – P388.
Their dessert choices are also unique and very Filipino. The options are Cream Cheese Flan, Chocnut Sansrival, White Chocolate Champsicle (Frozen Champorado Popsicle) and Dark Chocolate Champsicle. The price ranges from P75 – P120.
Ambience
The restaurant's interior style is simplistic. The walls are industrial-style, complimeted by the Romanesque-style windows and plastered on the walls are thought bubbles with cheesy lines such as "Mahalin kita d'yan eh", "LQ Ongoing Do Not Disturb" and "Makakatikim Ka Sa Akin." Guests are also greeted by a heart-shaped door knob upon entering the restaurant.
Once seated inside, you will get to see the kitchen where the cooks are busy preparing the meals. The aura of the restaurant is very maaliwalas. However, the restaurant is a little crowded as the space inside is quite small.
The Real Deal
We were able to try three variants of their Angry Bowls such as the Angrydobo Classic, Short Ribs and Sisig Rice. For the desserts, we also ordered the Cream Cheese Flan and the Chocnut Sansrival.
We were supposed to try the Angrydobo Flakes but they were already unavailable.
For the Angrydobo Classic, it was served with a side of Laing with Latik. It was extremely flavorful, having the right mix of creamy-ness and spice. I'm the type who likes my Adobo and rice drenched in sabaw. The sabaw is not served along with the Adobo. It is poured only right after it is placed in front of you, and it's the second best thing about this dish. (The best thing about this dish is the taste itself, duh)! Once the sauce is poured, the plate sizzles and the meat oozes with flavor. I would rate this dish a solid 10/10.
For the Sisig Rice, it was ordered along with Kang Kong which was sprinkled with some special sauce. Not a huge fan of mayonnaise, I was glad to know the dressing was actually Kewpie. It took a while to taste the dish because it is extremely hot but waiting for it to cool did not affect the quality of the sisig. Though I really prefer my sisig crunchy, this is still one of my favorite versions of sizzling sisig because it was not swimming in oil at all! I would rate this dish a 9/10.
The Short Ribs was also served with Kang Kong. As for the meat, it was tasty and tender. It also took a while before we were able to chow on it so I expected the meat to become tougher when it cools. But it didn't. It was as tender and savory as it was when it was served hot. I would rate this dish a 9/10.
Going to the desserts area, we were able to try their Chocnut Sansrival and Cream Cheese Flan. As a Sansrival lover, I had really high expectations on this variant. The taste is a little toned down compared to your regular Sansrival. You wouldn't recognize its Sansrival-ness because it lacks the off-white creamy icing and is replaced with crushed Chocnut. If you're the type who does not want their desserts to be overly-sweet and rich, you would like this Sansrival variant. I would rate this dessert an 8/10.
Onto the next dessert, I have one word to describe their Cream Cheese Flan. Exceptional. As a Leche Flan and Cheese enthusiast, the first bite felt like eating cheesecake in the form of Leche Flan. The Cream Cheese Flan was topped with Rice Crispies and what seemed to be Granola bits. I would rate this dessert a 10/10.
Yay or Havey?
The final verdict on Angrydobo? 100% YAY. Their dishes look good as they taste and definitely filling. Though the prices are a little pricey for a student like me, it wouldn't be bad to occasionally treat yourself to a good heavy lunch to fuel yourself up for your next round of classes.
By: Raphaela Dominguez
Photo credit: Ryan Agoncillo Official Instagram